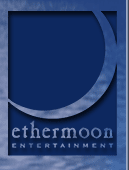 Joe "YourRoleModel" Poppa
Joe Poppa is the Lead 3D Artist for Ethermoon Entertainment. Joe graduated in 1995 with a Bachelor of Science Degree in Graphic Design from LaRoche College. He has had a wide variety of design-related experience during and after college over the last eight years, doing everything from print, to CD-based training, to web-based training, to this game.
Joe became well known in the Starcraft community by posting battle reports at www.battlereports.com. YourRoleModel has reported on greats like X'Ds~Grrrr..., Maven, October, and Mark4. The WorldWarThreeway Series battlereports might be among the most read battlereports created. The makeover of BattleReports.com and the creation of the site's mascot, Rook, drew attention to YourRoleModel's 3D graphics abilities.
Joe's favorite games include Age of Kings, WarCraft II, StarCraft, Diablo, Star Control II, Chess, and the old AD&D TSR games on the Commodore 64. The name YourRoleModel is to be taken tongue in cheek, but... shhh... don't tell anyone.
©2000-2021 Ethermoon Entertainment. All rights reserved.
Strifeshadow, Ethermoon Entertainment and their respective logos are trademarks of Martin Snyder