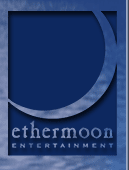 Joel "I'll Be Damned If I Have To Use One Of Those Silly Nicknames" Steudler
Reclusive and considered to be highly volatile and dangerous if provoked, Joel Steudler is the newest addition to the art team at Ethermoon. He also is trying to wedge his way into sound design, voice acting, creation of game-based fiction, and miscellaneous web related duties. His value as a general-purpose lackey is not to be underestimated, but if you encounter him in public, for god's sake don't try to touch or feed him. You're liable to lose a hand if you do. Some time long ago, Joel is rumored to have attended Penn State University and achieved some dubious degree in Liberal Arts, but that can be neither confirmed nor denied.
Some of you may already be aware that Joel has chosen to spend countless hours creating art, reciting dialogue, and composing music for various StarCraft user made add-on campaigns (not to mention writing a novel based on the same game). You may also be aware that he writes hideously long sentences. Sadly, there is no escape from his verbosity. Even the relatively safe pages of 3DGN (www.3dgaming.net) are riddled with his stinging words and vapid witticisms. Soon, the whole world will know of his vengeful wrath, but for now- he simply bides his time' waiting'
One of the few things known to keep Joel calm for any length of time is a good computer game (preferably one that doesn't require a 17MB patch to get it to run when taken straight out of the box). In a pinch, a terrific console game will also placate him. Documented records show that while attending E3 in May of 2000, Joel spent over three hundred and twenty-seven hours playing Soul Calibur. More substantial fare that has been demonstrated to sedate his wild temperament includes (but is not limited to): StarCraft; NHL [insert year here]; Planescape: Torment; Phantasy Star IV; and Jumpman Jr. That and a little thing called 'Rollercoaster Tycoon', as the kids say these days.
©2000-2021 Ethermoon Entertainment. All rights reserved.
Strifeshadow, Ethermoon Entertainment and their respective logos are trademarks of Martin Snyder